M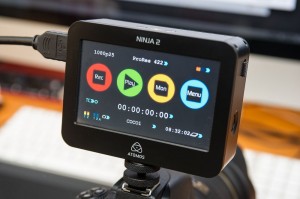 My Atomos Ninja 2 has just arrived and I've spent the weekend experimenting.
Very excited about it for various reasons. I shoot video with my Nikon D800 and while the files it records onto Compact Flash or SD cards are very good there are a couple of limitations on an operational level, mainly with the size of the screen and the in-built audio quality. I started to use an additional Lilliput monitor and a Zoom H4n but syncing audio afterwards is a tad irritating and the Lilliput is if anything slightly too large and cumbersome.
And when grading footage in FCPX the H264 files from the D800 only have a modest amount of headroom before they start degrading if big colour and exposure adjustments are required. A real incentive to get the shot right in the first place, but a disincentive to do much in the way of creative fiddling afterwards.
The Ninja 2 can record uncompressed 4:2:2 video straight from the D800's HDMI output port using various flavours of ProRes, from HQ down to LT depending on how much storage you have available. While I'm not suggesting it's a massive improvement because the D800 only outputs an 8-bit signal it is nonetheless an improvement and seems to hold more highlight and shadow information that the H.264 files. They are much larger though!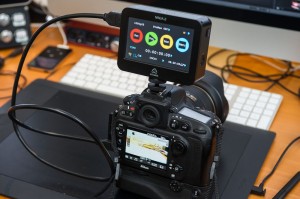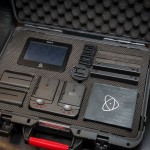 The Ninja 2 also has an audio in socket so I can record four tracks of sound, two from the HDMI source and two from an external mic. This should be great.
The interface is a dream and the whole unit is a delight to use and beautifully made from solid aluminium. I love the way I can review footage instantly, mark in and out points, use focus-peaking while shooting and on review, take advantage of exposure zebras and false colour (not had that before, but surprisingly easy to get used to and very useful). And I can plug the Lilliput monitor into it and hand that over to the client so they can review footage or monitor a shoot on their own screen.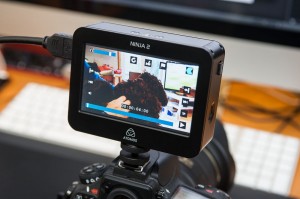 The only downsides are the cost of SSDs, although that's getting less every day. The two I ordered haven't arrived yet so I rushed off to PC World and bought a £50 500GB Toshiba drive, 5400 rpm and absolutely nothing special, and that hasn't dropped a frame or missed a beat in any way. Perhaps SSDs are overkill unless you're out and about recording hanging out of a car?
Love it love it love it 🙂
First shoot in anger this Friday 15th at a very low-key music event, so we'll see if it all works in practice.